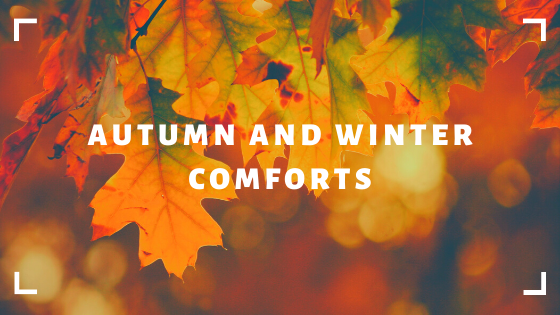 After a somewhat shaky start (I thought we were back in April Showers territory) autumn is now well underway. This time of year has its benefits. From crunchy leaves to hot chocolate treats and more, I like to think of autumn as the Snuggle Season. With colder days well on the way, I thought I'd share with you some of my favourite autumn and winter comforts.
It's All About the Warmth
There's nothing worse than being cold. I can't stand it. I'm also not a fan of big gas and electricity bills, either. When it is cold we have to have the heating on for our little man but there are plenty of other ways to keep toasty too.
Big fluffy sofa blankets are a must for Netflix binge-watching (or Thomas the Tank Engine watching), reading and snuggling. The same can be said for proper winter jumpers. Most of us have one of those big, slightly out of shape jumpers ready for when we are looking for autumn and winter comforts. Mine climbed out of the wardrobe weeks ago. Shapeless, bobbly but oh so warm and comfortable.
If we're extra cold we have been known to spontaneously burst into song and dance. That's one way to get the blood pumping. No-one has caught me doing my Mummy Dance in the shop yet but it is bound to happen one day. It might be safer to stick to layering up and enjoying my luxurious new eco slippers.
Autumn and Winter Comforts Mean Chocolate Treats
No Snuggle Season would be complete without chocolate treats. My little one is a chocolate fiend so when it comes to new stock arriving in the shop I have to keep my eyes on him. Always a helpful little man when it comes to unpacking boxes he's extra keen when he catches a whiff of anything sweet. Our favourite treat at the moment is to make ourselves a proper hot chocolate. This means whipped cream and sprinkles, of course.
It's Candle Season
To be fair, I'm not sure that there is any time that candles aren't welcome but have to say that the flickering lights, gorgeous scents and warmth that come from our candle ranges make for perfect autumn and winter comforts. We have an extensive range of candles and incense so if you are looking for something lovely for your home, pop in. I may have taken one or two (maybe three) home with me but have left plenty of aromatic candles for you to enjoy.

Toasty Toes and Warm Hands
If my hands, feet or ears are cold I'm no good to anyone. This is why I always have a good collection of gloves, socks and hats in stock. The same goes for our little boy. As always, our Frugi range includes some lovely autumn and winter bits and pieces, from tights to lovely leggings and more. I do wish that Frugi would introduce an adult range. I'd be more than happy to stay snuggled up in the shop in a pair of my own parsnip decorated trousers.
Your Favourite Autumn and Winter Comforts
What makes you think of good times during the colder months? Is it watching family movies under a blanket, reading in bed under the duvet, hot chocolate, thick socks or something completely different? I'd love to hear what your favourite seasonal treats and things to do are.