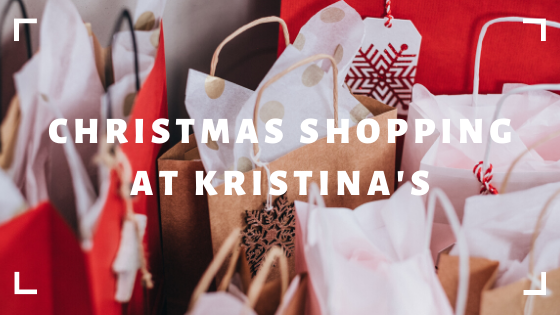 Christmas Shopping at Kristina's
Christmas is a brilliant time of year filled with wonderful traditions, great sights and good food. We have a new appreciation for all things festive since having our son and Christmas is all the more magical for having him with us.
The festive season is a key time for many independent businesses, including my own. Here in Thirsk, we have an array of wonderful indie shops and much like the

Just a Card campaign

many of us would love for you to choose our small businesses, physical and online when it comes to buying gifts and treats this year.
With this in mind, here are a few items you can choose from if you do decide to buy from Kristina's this year. This is a small collection of the many things we have in stock right now. A friend of mine called in last week and named it "a treasure trove of ethical fairly traded and fun gifts for everyone". A little long for a new strapline but I love the description.
My goal has always been to offer something for everyone so hopefully, I've succeeded.
Kristina's Mini Christmas Gift Guide
Frugi Organic Children's Clothing and Accessories
Kristina's is the only Frugi reseller in the area and as such we have first pick at some delightful children's clothing items and more. Our Frugi collection has gone down so well and stock flies off the shelves. It's great to see people fall in love with these organic, breathable and beautiful children's items. Perfect for gifts for little ones, there is plenty in store to choose from and we can order in items if you need something specific.
Eco Gifts and Treats
We firmly believe in fair wages and good working conditions, less plastic, more recycling, longer-lasting products and an altogether happier world that focuses on wellbeing, fun and all the good stuff. With this in mind, we have a range of fabulous eco-friendly products from bamboo toothbrushes and toothpaste tablets to recycled bags, reusable straws and much more to choose from. Fancy putting together a little eco hamper or a few goodies for someone's Christmas gift? I can certainly help with that.
Wooden Toys
We can't keep these in! We have a wide range of ethically made and responsibly sourced wooden toys and treats. Read more about the benefits of wooden toys here. With brands such as Plan Toys and Lanka Kade, we are sure that there is a wooden treat here for someone in your life.
Home Items From Kristina's
From cushions to locally made prints, personalised metal signs to candles and incense, salt lamps and recycled bike chain decor, we are sure that there is something here for those looking for homewares to gift someone. Have a look on

the Kristina's website

to see some of my wares and pop into the shop to see the full range.
Something for Everyone
As well as the above we have a gifts range for the men in your life, jewellery from Rae Fin (a professional jeweller who used to run jewellery making classes here at Kristina's), sofa socks and slippers for him and her, our ever-popular rainbow ceramics and so much more.
The kettle is always on here at Kristina's so pop in for a look and please support your local traders and small businesses online. We really do a little dance when we make sales and see customers leave our shops happy.