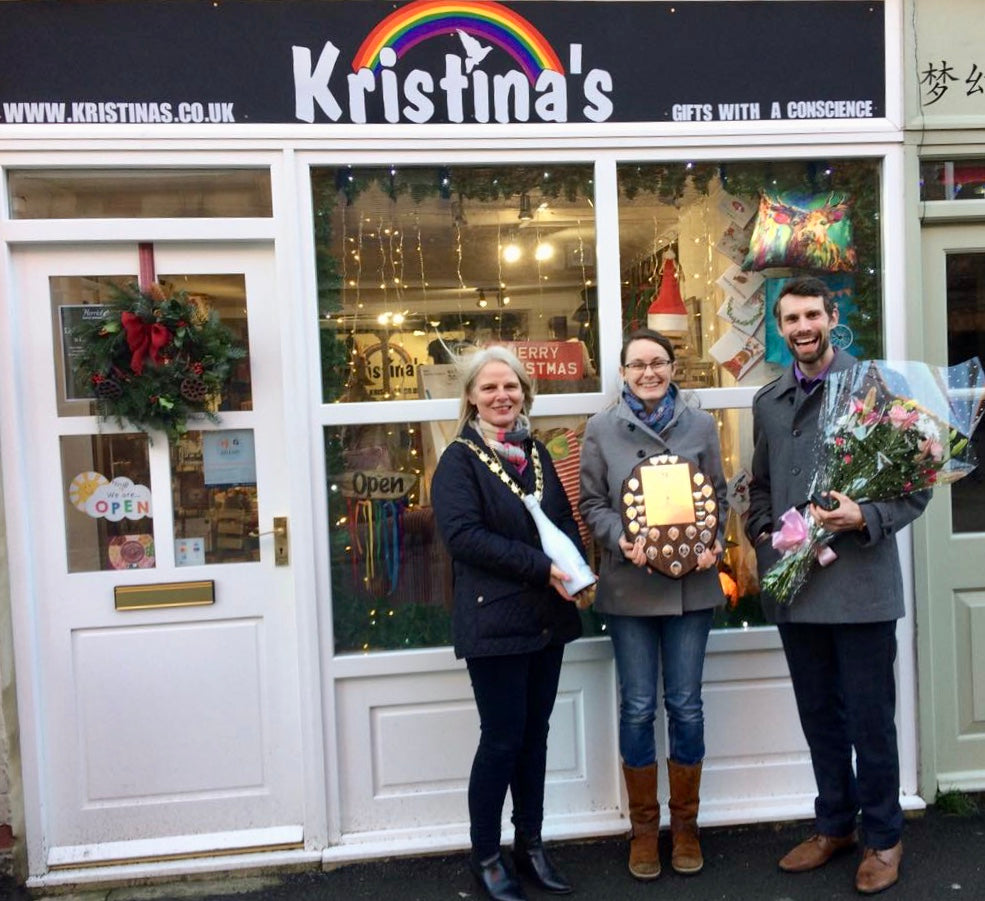 With a shop in Thirsk, North Yorkshire and this website ready to serve anyone looking for gifts, treats, ethically sourced items, eco-friendly options, UK-produced items and more I thought it time to tell you a little more about me and about Kristina's.
Who is Kristina's
Kristina's is me, Kristina. Born and raised in the North East I've been in Thirsk for many years now with my husband and adorable little monkey of a son, Ralph. Ralph regularly helps out in the shop. He's much better with the hoover than I am and is a whizz when it comes to putting prices on.
As a person I am someone who is passionate about the local community, I love running my own business and am grateful for the people that I've met through it. I've also never met a bagel that I didn't like so it is probably a good thing that as a family we like to go for long walks, hikes and enjoy outdoor adventures. Based in North Yorkshire we are very lucky to have such amazing places to visit.
What is Kristina's
Kristina's is a lot of things. A bricks and mortar store, an online place to buy your homewares, gifts and more but also somewhere where the kettle is always on. When setting Kristina's up I had a picture in my mind of what I wanted the business to look like. Four years on and not only have my initial plans been completed; Kristina's has evolved more than I could have ever expected or hoped for. 
Over the last eighteen months, for example, I have added many more eco-friendly items, from bamboo toothbrushes to plant-based plates, soap bars and so much more geared towards sustainable living and ethical living. I am the only local Frugi seller too and becoming this was a fantastic decision for me. Frugi baby and children's clothing is organic, breathable, soft and looks amazing. Ralph would wear Frugi every day if he could. Always keen to support small businesses I've worked hard to source items from independent artists and producers too.
 Where is Kristina's
I started out in Court Arcade, Thirsk (down the side of Row's opticians) but made the nail-biting decision to put my big girl pants on last year and move into the Market Place. I am so glad that I did. You may now find me at 3a Kirkgate (find me on Google Maps here) which is between the Magic Wok and Johnson's Butchers. Being more central I now get to see a lot more of what is going on in the town and customers find me easier.
 As well as being in Thirsk I have a website for those looking to have a nosy at some of what I offer in advance or to buy online and have delivered/posted out. If you have any questions about the website (which is soon to be updated again with new wares) please don't hesitate to ask.
What Makes Kristina's Different

Kristina's is all about the people. I've always wanted my own shop and I've always had an idea of what it would look like and what it would sell. I really wanted to offer Thirsk a place to buy interesting, original and fun items without having to travel out of the area to a big city and I wanted to offer a no-pressure, relaxed and fun shopping experience. Kristina's is a friendly, people-focused shop where you may enjoy a wide range of items for all ages and interests without breaking the bank. 
Kristina's looks and feels exactly how I wanted it too, however, never one to sit back and watch the world go by I am already thinking about what else I can do, what else I can stock or offer to make my customer's experience even better.
Come and See For Yourself
You know a lot more about me now. Say hello on Facebook or pop in and see what is on offer. The kettle is always on at Kristina's. If you aren't local pop on to the website to have a nosy. It is regularly updated with new items so make sure that you bookmark it. I hope to speak to you soon!
 Kristina x